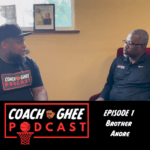 Welcome to Coach Ghee's podcast with your host, Ghee Funny. On our very first episode, we have a special guest, Brother Andre. He is an incredible basketball coach who has won 11 public league championships, nine state championships.
In this episode, Ghee Funny dives right into the topic of young basketball players and the pressure they face to play early. Brother Andre shares his perspective, emphasizing that they don't believe in holding anyone back based on their age or class. Instead, they focus on a player's abilities and their readiness to contribute to the team. Despite the talent some young players possess, there is usually an adjustment period when transitioning to the varsity level.
The conversation shifts to the societal changes that have influenced the mindset of young people today. Brother Andre believes that the rise of mass communication and social media has made individuals more self-focused, leading to a shift in priorities compared to previous generations.
Ghee Funny then turns the spotlight on Ahmad Noel, a top-ranked player in the nation. Brother Andre showcases his confidence in Ahmad's capabilities, emphasizing his work ethic and leadership qualities. He believes that Ahmad will not only perform well individually but also elevate the performance of the younger players on the team.
In closing, Ghee Funny and Brother Andre share a lighthearted moment discussing the best cheesesteak in Philly, with Brother Andre mentioning his personal preference for Hoagie Factory. They then reminisce about some of the memorable moments in EmbleTEP basketball history, with Brother Andre highlighting the recent achievement of winning the City of Palms championship for Pennsylvania.
This episode marks the beginning of a promising podcast journey with Coach Ghee and a fantastic lineup of guests. Make sure to tune in and stay connected as we bring you more insightful conversations and valuable insights from the world of basketball.